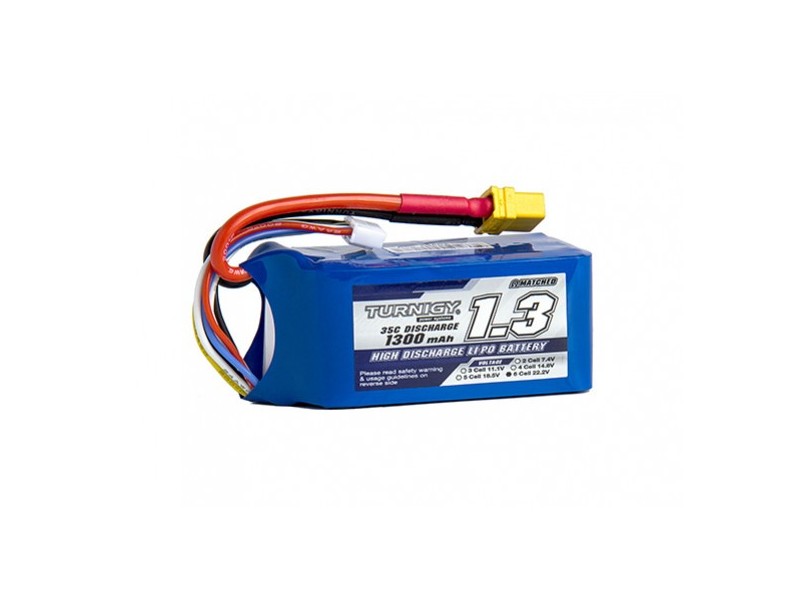  
Turnigy 1300mAh 6S 35C Lipo Pack (450 helicopter HK/Trex/Rave/E4 etc)
N1300.6S.35
Turnigy 1300mAh 6S 35C Lipo Pack (450 helicopter HK/Trex/Rave/E4 etc)
Turnigy 1300mAh 6S 35C Lipo Pack (450 helicopter HK/Trex/Rave/E4 etc) Spec.
This lipo is designed for use in 450 class helicopters such as the HK450 PRO, TREX450 PRO, Rave 450, Beam E4 etc...

By running a lower KV motor (around 1700KV), you can achieve longer flight times and extremely high performance (when compared to a standard 3S setup) due to the increased efficiency of a higher voltage setup in your 450 class helicopter!
Turnigy batteries are known the world over for performance, reliability and price. It's no surprise to us that Turnigy Lipoly packs are the go-to pack for those in the know. Turnigy batteries deliver the full rated capacity at a price everyone can afford.  
Turnigy batteries are equipped with heavy duty discharge leads to minimise resistance and sustain high current loads. Turnigy batteries stand up to the punishing extremes of aerobatic flight and RC vehicles. Each pack is equipped with gold plated connectors and JST-XH style balance connectors. All Turnigy Lipoly batteries packs are assembled using IR matched cells.
You won't find a better deal in Lipoly batteries anywhere!
Spec.
Capacity: 1300mAh
Voltage: 6S1P / 6 Cell / 22.2V
Discharge: 35C Constant / 45C Burst
Weight: 218g (including wire, plug & case)
Dimensions: 76x35x46mm
Balance Plug: JST-XH
Discharge Plug: XT60
99 other products in the same category
1
Turnigy 1300mAh 6S 35C Lipo Pack (450 helicopter HK/Trex/Rave/E4 etc)