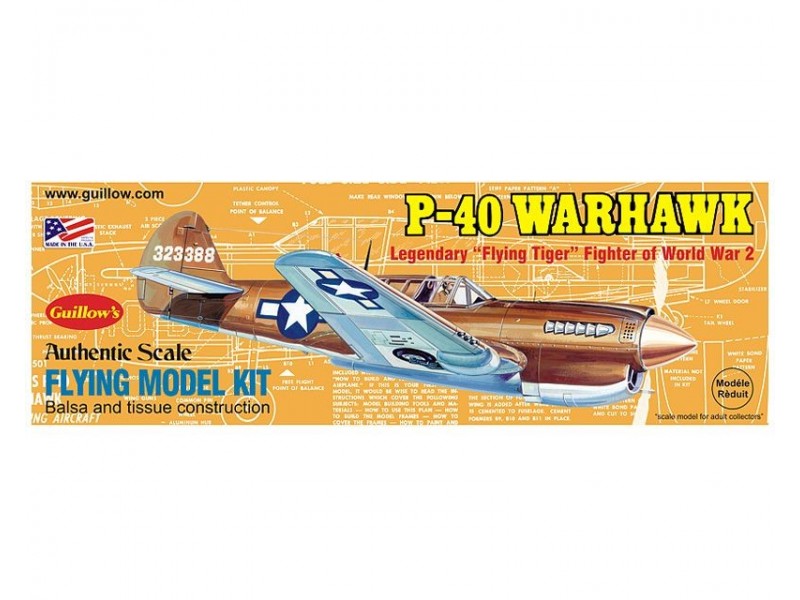  
Curtiss P-40 Warhawk balsa kit
gu501
Curtiss P-40 Warhawk balsa kit
500 series by Guillow contain balsa sheets, a plastic engine and canopy, decals, a propeller, wheels, paper covering, blueprint and building instructions in English with German translation.
Curtiss P-40 Warhawk balsa kit
This kit contains materials for building a flight model.
Content includes:
1:1 scale construction plan, precise balsa parts, lightweight deep-drawn engine and canopy & extensive exterior details, original sticker set, scale plastic wheels (if required), rubber band, plastic propeller, plastic thrust bearing, propeller shaft, covering paper and sufficient balsa strips.
Tools and accessories required (not included):
Glue (model airplane glue, white glue or CA super glue) for the bals wood parts and a white glue for applying the covering, transparent acrylic spray for a protective final coat of paint.
Model building tools and accessories such as building boards, pins, knives, paints, etc..
Technical specifications
Винг Span approx. 420 mm / 16½ inch
Drive : rubber motor
Scale 1:30
Recommended for children aged 14 and over
99 other products in the same category
1
Curtiss P-40 Warhawk balsa kit