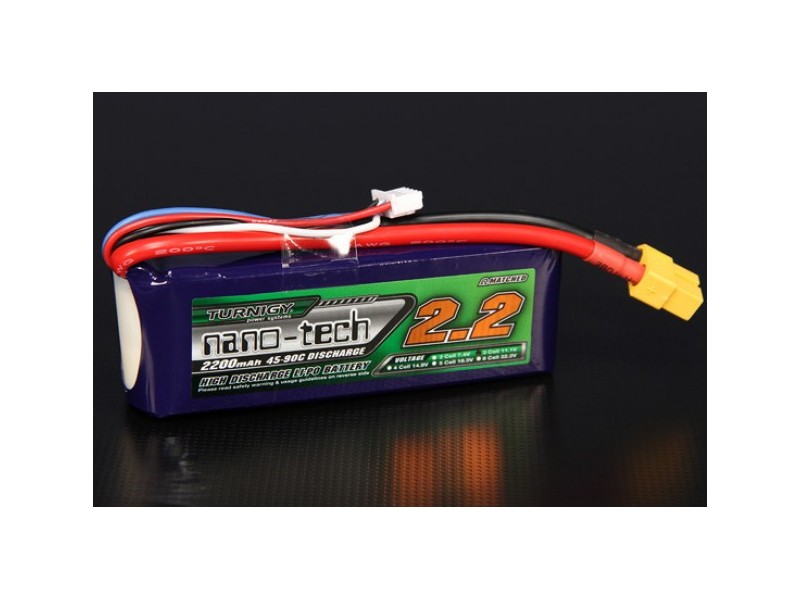  
Turnigy nano-tech 2200mah 3S 45~90C Lipo
N2200.3S.45
Turnigy nano-tech 2200mah 3S 45~90C Lipo
Turnigy nano-tech 2200mah 3S 45~90C Lipo
Spec.
Capacity: 2200mAh
Voltage: 3S1P / 3 Cell / 11.1V
Discharge: 45C Constant / 90C Burst
Weight: 201g (including wire, plug & case)
Dimensions: 112x36x26mm
Balance Plug: JST-XH
Discharge Plug: XT60
Advantages over traditional Lipoly batteries;
• Power density reaches 7.5 kw/kg.
• Less Voltage sag during high-rate discharge, giving more power under load.
• Internal impedance can reach as low as 1.2mO compared to that of 3mO of a standard Lipoly.
• Greater thermal control, pack usually doesn't exceed 60degC
• Swelling during heavy load doesn't exceed 5%, compared to 15% of a normal Lipoly.
• Higher capacity during heavy discharge. More than 90% at 100% C rate.
• Fast charge capable, up to 15C on some batteries.
• Longer Cycle Life, almost double that of standard lipoly technology.
The nano-core technology in lithium-ion batteries is the application of nanometer conductive additives. The nanometer conductive additives form ultra-strong electron-conducting networks in the electrodes which can increase electronic conductivity.
99 other products in the same category
1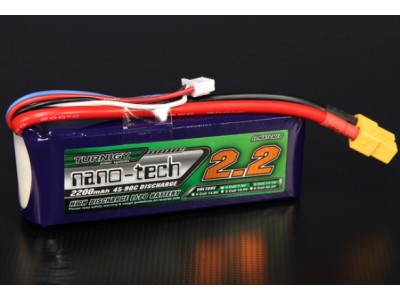 Turnigy nano-tech 2200mah 3S 45~90C Lipo