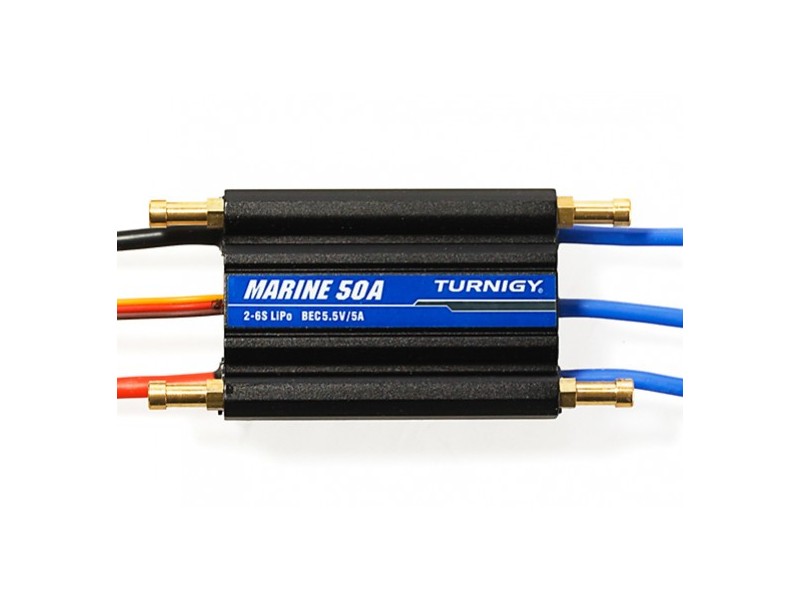  
Turnigy Marine ESC 50A
9261000054-0
Turnigy Marine ESC 50A
Make the most of your RC boat with this powerful ESC. Designed with a high performance MCU, the circuit design ensures strong anti-interference and intelligent technology. The waterproof design features fast throttle response, smooth linear throttle control and programmable start mode. 

The Turnigy ESC has a built-in 5.5V/5A switch BEC to allow for the use of higher current servos. The ESC can be programmed through your radio using the intuitive cycle menu or by using the optional Program Card 9261000059-0. The programable features are:
• Running Mode - Forward / Forward & Reverse
• Motor direction
• Low voltage protection
• Start mode (Punch)
• Motor timing
This ESC has multiple protection functions, including low voltage cutoff, thermal overload protection and throttle signal loss to make the ESC more reliable. You are also protected from over thermal protection, when the ESC temperature reaches over 100 °C the output power will automatically reduce. When it's lower than 80°C, the output power will return to normal.

Compatible with scale boats and racing boats.

Note: If there is water in the ESC, please dry at the connectors.

Features:
• High performance MCU
• Strong anti-interference.
• Waterproof design
• Fast throttle response
• Smooth speed control linearity
• Compatible with scale boats and racing boats
• Low-voltage protection threshold
• Built-in switch BEC
• Input voltage abnormal protection for low-voltage, over-thermal protection and throttle signal loss.
• High power safety performance
• Simple cycle menu

Specs:
Model: A-SW050006
Continuous Current: 50A
Burst Current: 300A
LiPo Cells: 2-6S
BEC Type: Switch BEC
BEC Output: 5.5V/5A
Weight: 90g
Dimension: 57x49x18mm (excludes water pipe)
Boat Length: <55cm
99 other products in the same category
1