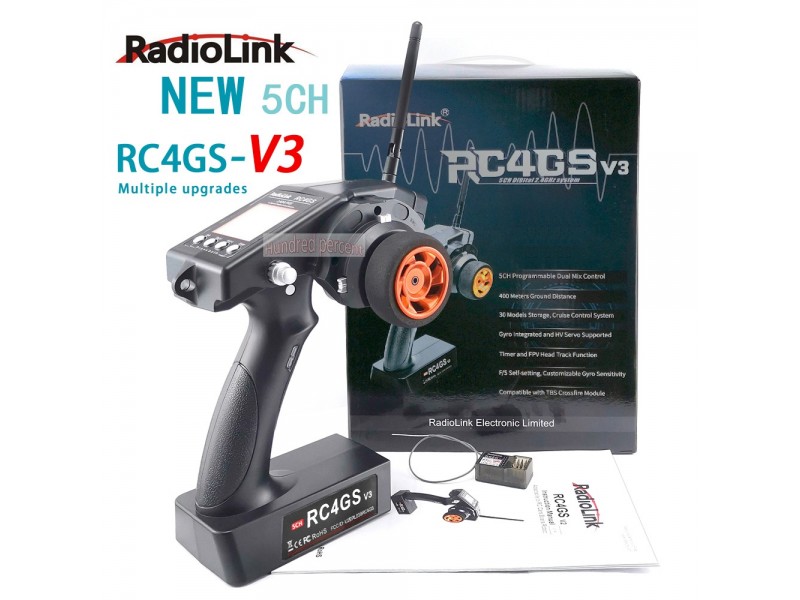  
RadioLink RC4GS V3 2.4G 4CH 400M Distance Remote Controller Transmitter + R6F Receiver
RC4GS
RadioLink RC4GS V3 2.4G 4CH 400M Distance Remote Controller Transmitter + R6F Receiver
RadioLink RC4GS V3 2.4G 4CH 400M Distance Remote Controller Transmitter + R6F Receiver
Full model car - boat - tracked vehicle robot remote control

- Five-channel programmable dual-mix control
- 400m ground control distance
- Support throttle speed and timer function
- Support simulator, external black sheep HF head
- One key to switch the size of the rudder, 30 groups of model storage
- Support power battery voltage back transmission (up to 8S)
-Compatible with R8F, R8EF, R7FG, R6FG, R6F, R4FGM, R4F

400m stable ground remote control distance
Adopt the same FHSS spreading algorithm of AT9S Pro, 67-channel pseudo-random sequence frequency hopping, to achieve superior anti-multipath interference and anti-same band interference capability, suitable for multiple people to compete in the same field at the same time.
Especially under the conditions of water surface use, it significantly reduces the impact of water ripple on signal interference and reduces the risk of losing the boat due to weather factors.
RC4GS V3 remote control main control chip is upgraded from ARM M3 of RC4GS V2 to ARM M4, and the receiver main chip adopts 32-bit industrial grade ARM Cortex M0 chip.
Stronger resistance to oil machine spark interference, oil machine barrier-free use.
Stable control distance up to 400 meters on the ground!

DSC port multi-mode setting
RC4GS V3 new DSC settings menu page: DSC menu factory default for simulator mode (support VRC Pro, CarX, Shenli Kosha and other simulators).
Also directly through the DSC port connected to the Black Sheep HF head set to HF head mode.
RC4GS V3 Specifications:
Dimensions: 174.8*116.4*224.2mm
Weight: 319g
Battery Case Dimension: 89*59*25mm
Frequencies Band: 2.4GHz ISM band (2400MHz~2483.5MHz)
Channel Quantity: 5
Applicable Model Types: Car(incl.Crawlers/Tanks/Caterpillars)/Boat/Robot
Modulation Mode: GFSK
Spread Spectrum Mode: FHSs&67CH pseudo random frequency hopping
Storage Model Quantity: 30
Antenna Length: 106mm (4.17")
Control Range: 400 meters(1312.33 ft)(Maximum range tested in unobstructed areas free of interference)
LCD Screen: 128*64 resolution,LCD backlight
Rc4GS V3 Operating Voltage: 4.8-15V, 6pcs of AA batteries or a 2S-4S LiPo battery
RC4Gs V3 Operating Current: 80~120mA(Depending on power supply)
R6FG Operating Voltage: 3~12V
R6FG Operating Current: 30mA
Transmission Power: <20dbm
Channel resolution: 4096 with regular jitter of 0.5us
Low Voltage Alarm: Yes, when less than 4.6V or customize on 2S-4S battery
Compatible Receiver: R6FG(Std),R7FG,R6F,R8EF,R8F,R4FGM,R4F
CRSF Protocol Supported: is compatible with TBS Crossfire by connect the TBS Crossfire to the DSC port of the RC4GS V3
R6FG Specifications:
Frequency: 2.4GHz ISM band(2400MHz~2483.5MHz)
Size: 35*20*13mm
Weight: 6g
Channel Quantity: 6 channels
Model: cars/boats
Spread Spectrum: FHSS & 67 signal channel pseudorandom frequency sequence hopping
Antenna Length: 205mm
Power Supply: 3~12VDC
Channel Resolution: 4096
Operating Current: 30mA
Control Range: 400meters(1312ft)
Compatible transmitter: T8S/T8FB/RC6GS V3/RC4GS V3/RC6GS V2/RC4GS V2/RC6GS/RC4GS
99 other products in the same category
1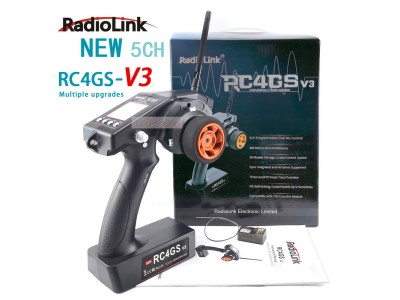 RadioLink RC4GS V3 2.4G 4CH 400M Distance Remote Controller Transmitter + R6F Receiver