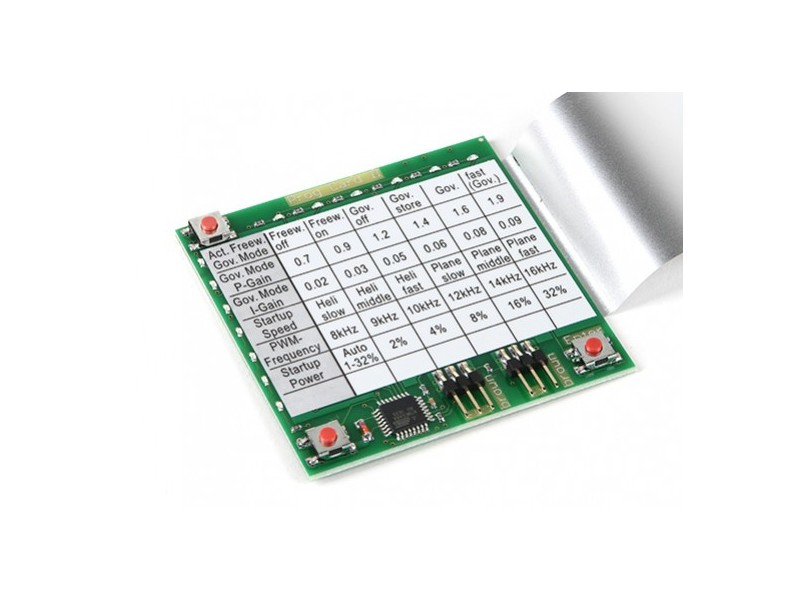  
YEP ESC Programming Card
355000020
YEP ESC Programming Card
This is the programming card for the YEP ESCs. This card allows you access to all of the programing options. Its compact size allows it to be stored in your field box or pocket with ease.
Programming Options:
• Active free-wheeling circuit mode: Freew. off/Freew. on
• Govenor mode: Gov. off/Gov. store/Gov./fast Gov.
• Govenor mode P-gain: 0.7/0.9/1.2/1.4/1.6/1.9
• Govenor mode I-gain: 0.02/0.03/0.05/0.06/0.08/0.09
• Startup speed: Heli slow/Heli middle/Heli fast/Plane slow/Plane middle/Plane fast
• PWM frequency: 8kHz/9kHz/10kHz/12kHz/14kHz/16kHz
• Start-up power: Auto 1~32%/2%/4%/8%/16%/32%
• Motor timing: 0°/6°/12°/18°/24°/30°
• Brake: off/Acro/Acro hard/smooth/middle/hard
• Cut-off type: off/slow down/cut-off/NiMh/LiFe/LiPo
• Cut-off voltage (LiFe mode): 2.2/2.3/2.4/2.5/2.6/2.7
• Cut-off voltage (LiPo mode): 2.9/3.0/3.1/3.2/3.3/3.4
• Cells: 4/5/6/7/8/9
• Cells: 10/11/12/13/14/15
• Special functions: Beep short/Rev./Stop/Full speed/F3A brake/Auto timing
 This programming card is suitable for YEP and RotorStar ESCs.
99 other products in the same category
1